Scholarship Information
Dear Colleague,

The Free Application for Federal Student Aid (FAFSA®) is now open for seniors, and the College Board Opportunity Scholarships program is here to support your school's efforts with free FAFSA assistance and scholarships for completing the FAFSA.

Wyatt, FAFSA Assistance Chatbot
College Board has partnered with Benefits Data Trust—a national nonprofit—to connect Opportunity Scholarship participants with Wyatt℠, a free FAFSA-assistance chatbot that answers questions via text message. Your students can receive around-the-clock help from Wyatt to ensure that frequently asked questions get answered quickly. All seniors can now sign up for Wyatt using the link at the top of the Opportunity Scholarships homepage.

Watch the video below to get help completing the FAFSA.

Scholarships for FAFSA Completion
By confirming completion of the FAFSA, your students can qualify for drawings for $500 College Board Opportunity Scholarships. Here's how students qualify:
| | |
| --- | --- |
| 1. | They sign up for College Board Opportunity Scholarships if they haven't yet joined. |
| 2. | They fill out the FAFSA. |
| 3. | Once they've submitted the FAFSA, they visit the My Action Plan page and confirm their submission. |
| 4. | If they're legally ineligible to complete the FAFSA, they can still qualify for this scholarship on their My Action Plan page. |
Winners are selected monthly and are notified via the email in their College Board accounts. For questions about Opportunity Scholarships, email opportunityscholarships@collegeboard.org or call 844-298-3554.

Sincerely,

College Board
·         Virtual FAFSA Q&A Sessions every Monday in October, starting October 11th from 4:30 pm to 6:00 pm  
·         On-campus Preview Day the morning of October 15th and the afternoon of October 18th  
              Please Register Here for October 15th 
              Please Register Here for October 18th  
·         A Center for Integrated Manufacturing Open House on October 26th from 4 pm to 6 pm  
·         Virtual Admissions Q&A Sessions every Thursday evening from 5 pm to 6 pm 
Apply Here:https://www.myscholarship.app/uo-fujifilm-scholarship-2021

U.S. Senate Youth Program
2022 Application Process and Deadline
For 2022, the 60th Annual United States Senate Youth Washington Week Program will be held in Washington, D.C., from March 5-12, 2022.
Colorado student applications for United States Senate Youth Program are due Friday, October 8, 2021 by 11:59 p.m. to CompetitiveGrants@cde.state.co.us
2022 Application Information and Materials: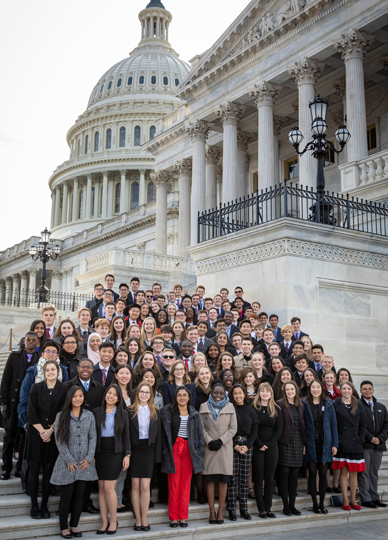 2019 Senate Youth Delegates
The United States Senate unanimously passed a resolution in 1962 creating the UNITED STATES SENATE YOUTH PROGRAM (USSYP), a national non-partisan initiative to provide an annual opportunity for talented high school students with demonstrated leadership abilities to deepen their understanding of America's political processes and strengthen their resolve to pursue careers in public service.
The USSYP brings the highest-level officials from each branch of government to meet with this outstanding group of young leaders-two high school juniors or seniors from each of the fifty states, the District of Columbia, and the Department of Defense Education Activity (DoDEA) - for an intensive week-long education and leadership program held in Washington, D.C. The program is merit-based and highly competitive. Each student will also receive a $10,000 undergraduate college scholarship with encouragement to pursue coursework in history and political science. Now in its fifty-ninth year, the program has been fully funded since inception by THE HEARST FOUNDATIONS as an enduring commitment to preparing young people for civic leadership in our participatory democracy.
Numbering more than 5,500, USSYP alumni serve the country in many ways. They have become leaders in government, law, business, education, journalism, the military, medicine, health care, higher education, and many other fields. Alumni serve as elected and appointed officials at all levels of government, including two current United States senators, many congressional staff members, a former governor, former senior political advisors to the president of the United States, former ambassadors, and former federal judges. The commonality to all their successes is the desire to serve.
The 60th Annual United States Senate Youth Washington Week Program will be held in Washington, D.C., from March 5-12, 2022
2022 US Senate Youth Official Program Brochure 
---
Criteria
Each student must be a legal permanent resident or citizen of the United States at the time of application. The student must be enrolled for the entire academic year in a public or independent high school located in the state (including for these purposes, the District of Columbia) in which at least one of their parents or guardians currently resides.  The student applicant must currently be serving in an elected capacity in any one of the following student government, civic, or educational organizations and continue to serve in that elected position for the entire school year:
·      Student Body President, Vice President, Secretary, or Treasurer;
·      Class President, Vice President, Secretary, or Treasurer;
·      Student Council Representative;
·      National Honor Society officer; or
·      Student representative elected or appointed (appointed by a panel, commission, or board) to a local, district, regional or state-level civic, service and/or educational organization approved by the Colorado Department of Education.
Selection will be based on academic accomplishments, community service, and demonstrated qualities of leadership for the current school year.  
Questions? Please contact Patty Gleason at Gleason_P@cde.state.co.us.
2021 Colorado Free Application Day$
In 2021, Colorado's Free Application Day has expanded to become "Free Application Day$"! The fourth-annual state-wide initiative has grown from one day to three days:  
>Tuesday, October 19 - Thursday, October 21, 2021<
Applicants who submit their admission application to Colorado's colleges and universities during this three day period can do so for free. Just follow the application instructions listed below.
And remember, while the application must be submitted during this three-day period to be eligible for the fee waiver, applicants can begin working on their admission applications now! Just save your on-line work and submit the admission application October 19 - 21. 
Application Instructions:
Click here to view instructions at each participating college and university in Colorado on how to apply for admission for free during Free Application Day$.
Who is Eligible to Participate in Free Application Day$?
All residents of Colorado who are applying for undergraduate programs at all state participating private Colorado colleges and universities are eligible to submit their admission application for free on October 19 - October 21, 2021. Undergraduate programs include undergraduate level certificates, associate degrees, and bachelor degrees. This means all of the following applicants are eligible:
First-time freshmen,
transfer students,
returning students, and
applicants seeking a 2nd bachelor degree.
Applicants for graduate level programs are not eligible.
The actual admission application must be submitted starting Tuesday, October 19th through midnight on Thursday, October 21st to be eligible for the fee waiver. However, applicants can and are encouraged to begin filling out the application before this time - the application just needs to be submitted during this three-day period.
If the college/university has additional application documents required as part of the application process (for example, high school transcripts, letters of recommendation, etc.) they can be submitted before or after October 19 - 21.
Almost all colleges and universities have application fee waivers for financial hardship during the entire year. As such, if you have financial hardship and wish to submit your admission application before (or after) Free Application Day$, contact the admission office at the college/university you want to apply to for more information.
It is always free to apply to Colorado's community and area technical colleges
Colorado community and area technical colleges never charge to apply for admission! 
Colorado is "Test-optional"
First-time freshmen applicants have the option to include or not include their SAT or ACT scores with their college applications as Colorado colleges and universities are now "test-optional" due to recent legislation. This can make the college application process even easier for applicants. To learn more about the test-optional policy click here. 
Helping you reach higher 
My Colorado Journey has resources that help you discover your talents and interests, find a matching education or training program and successfully submit an application. 
What's next? 
After you apply, it's important to file the Free Application for Federal Student Aid (FAFSA). The FAFSA is your ticket to grants, scholarships and work study positions that can put college in reach. Learn how you can get your piece of the pie! 
Why do we have Free Application Day?
To inspire more Coloradans to continue their education, all 32 public colleges and universities in Colorado and several private institutions will allow students to apply for free on Tuesday, October 19 - Thursday, October 21, 2021 as part of the fourth annyal Colorado Free Application Day$.
Colorado Free Application Day$ caps off Colorado Applies Month, a five-week campaign that guides 11th- and 12-grade students and adult job seekers along the application process. 
The statewide push is designed to increase Colorado's stagnant college-going and FAFSA completion rates. Despite being one of the most educated states in the country, Colorado sends just 56 percent of high school graduates to a college, university or certificate program, and just 50 percent of students submit a FAFSA application—a key indicator of students' likelihood to continue their education.  
By removing barriers for students to achieve a credential, Colorado can increase the number of students who complete their programs and enter the workforce with a degree or competitive skills. Nearly 75 percent of Colorado jobs require a postsecondary credential. Colorado Free Application Day encourages residents to live up to their fullest potential.  
2020 Colorado Free Application Day Results:
View results for free application day 2020 - thank you to all who participated and helped make the day a success!
All 32 state colleges and universities and several private institutions waived admission application fees for Colorado residents on Tuesday, October 13, 2020 as part of the third annual Colorado Free Application Day. A quick summary of the day can be found here, and additional details are included in this press release. Free Application Day success data cited in these resources include:
56,896 total applications submitted
Over $2.3 million in application fee savings
44% were submitted by students of color
Almost 30% were submitted by first-generation students
Many individuals contributed to making this initiative a success, but a special thank you to all the high school counselors and front line staff in the college admission offices across the state for your hard work on this program!
If you are headed to college, you need to complete the FAFSA. Click on the link to get more information.
The websites in this section may answer some of the most Frequently Asked Questions (FAQs) re: FAFSA, financial aid, student loans, government programs, etc.
---
JUNIORS and SENIORS: SIGN UP TODAY!!!
​
---
Scholarships for African-American and Black Students
Check out this list for some new opportunities:
---
Please see attachments below for Scholarship details and application.
---
 *** NEVER PAY TO APPLY FOR SCHOLARSHIPS!***